Practice Research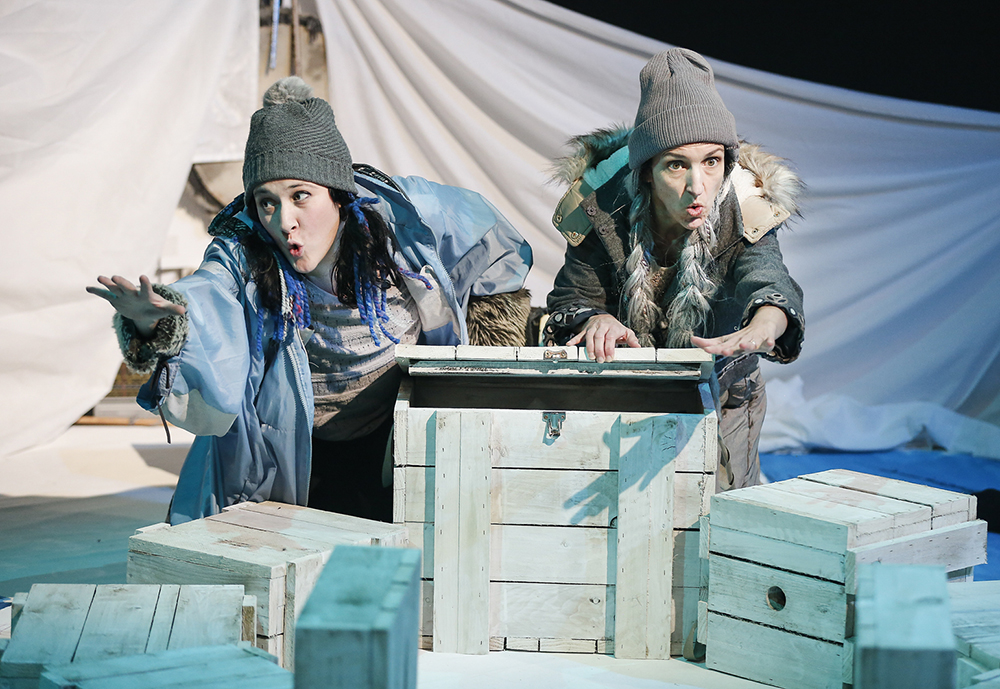 Despite increased global awareness of ecological issues, environmentally-based performance remains under-researched in terms of form and content: as arts/environment organisation TippingPoint explains, 'there is a resistance to talking about it [climate] when it is laid out as a topic'; and Moore and Salec refer to the passivity of some artworks' 'apocalyptic imaginaries'.
Ledger, who co-founded The Bone Ensemble in 2002, undertook a professional, long-term PR process to create new modes of participatory performance, better to communicate issues and model alternative environmental normalcies. Where's My Igloo Gone?, about climate change, and Gulp!, about water issues, fulfilled the research questions:
what characterises empathetic, positive environmental dramaturgies?
how can participatory performance forge empowering and accessible experiences for family audiences?
The research insights harnessed the efficacy of personalised problems and the means to engage spectators empathetically in abstract issues (see documentation 1). The development of participatory, politicised strategies offered direct audience experience, yet no (or little) English both 'universalised' content and aided accessibility for EAL/d/Deaf audiences (see documentation 2 and 3). Song, music and sound augmented the innovation of a highly visual performance style (see documentation 3).
The productions were developed through close relationships with theatre industry partners, scientific advisors and schools, and stakeholders including Severn Trent Water and the National Rural Touring Forum. Alongside other support, the research attracted £82, 427 in Arts Council England funding (see documentation 4).
As well as written and web-based dissemination, Where's My Igloo Gone? was performed 76 times nationally to a total audience of 3186 (2016-18), and Gulp! to audiences of [tbc] (2019-20) [or combine these statistics]. The Boulevardteatern (Stockholm) re-made and toured Where's My Igloo Gone? in Sweden for [x] performances (2019-21).
The accompanying portfolio comprises iterative documentation, demonstrating:
Documentation of process [both integral and external (photos, designs, scripts, films, audience feedback, etc.)]
Journal article, references to conference presentations, and two commissioned blog entries
Trailers/films of complete performance
Publicity material (flyers, posters)