Practice Research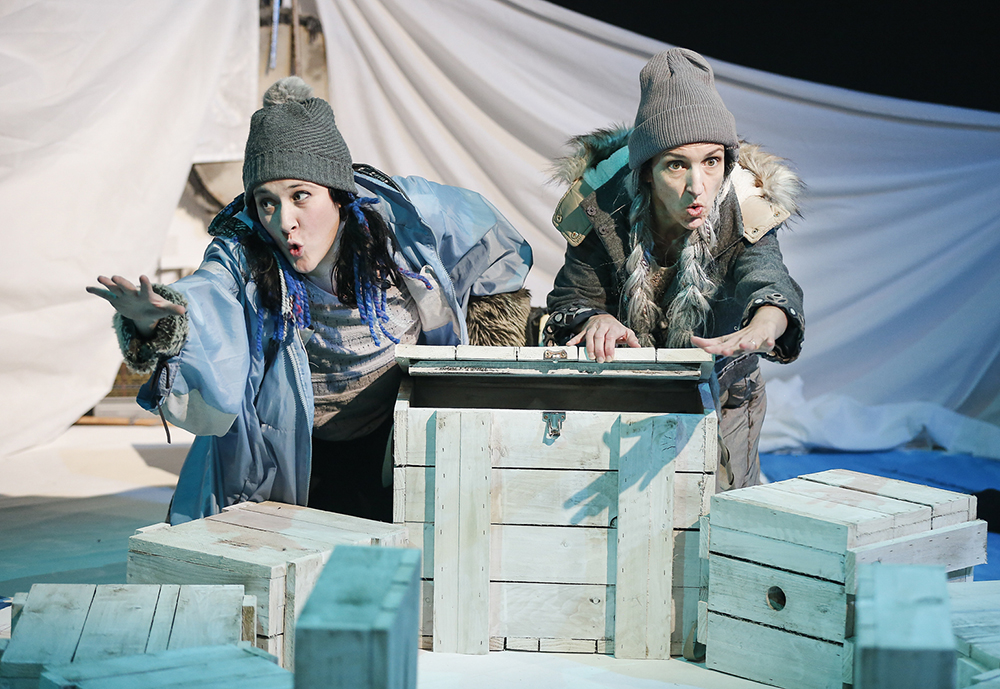 Despite increased global awareness of ecological issues, environmentally-based performance remains under-researched. The arts/environment organisation TippingPoint reports that 'there is a resistance to talking about it [climate] when it is laid out as a topic'; and Moore and Salec refer to the passivity of some artworks' 'apocalyptic imaginaries'.
Ledger, who co-founded The Bone Ensemble (W1) in 2002, undertook a long-term professional practice research process to create new modes of participatory performance (A), better to communicate issues and explore alternative environmental scenarios. Where's My Igloo Gone?, about climate change, and Gulp!, about water issues, addressed the research questions (W2):
what characterises empathetic, accessible environmental dramaturgies?
how can participatory performance forge empowering, positive experiences for family audiences?
The research harnessed the power of participatory performance to involve audiences in abstract issues at a personal level. The development of more politicised strategies modelled alternative behaviours (B1&2); invented languages and a gestural performance style 'universalised' content and aided accessibility for EAL/d/Deaf audiences (B3). Original song, music and sound augmented the innovation of highly visual performances modes (D1-3).
The productions were developed through partnerships with theatre organisations, scientific advisors and schools, and stakeholders including Severn Trent Water and the National Rural Touring Forum (W2). Alongside other support, the research attracted £82,427 in Arts Council England funding (W3).
Where's My Igloo Gone? was performed 76 times in the UK to total audiences of 3,186 (2016-18). Gulp! reached audiences of 1,860 (2019-20); a further 300 devices accessed the film version (during the COVID-19 crisis) (D4); and a graphic-novel version of Gulp! was disseminated (W4). The Boulevardteatern (Stockholm) re-made and toured Where's My Igloo Gone? (2019-21) (W5).
The accompanying portfolio comprises iterative documentation, demonstrating:
Key Websites
Outputs - A: Productions
A1: The Bone Ensemble (2016–18) Where's My Igloo Gone?, dir. Adam Ledger. Trailer and complete film included below.
A2: The Bone Ensemble (2019–20) Gulp!, dir. Adam Ledger. Trailer and complete film included below.
Outputs - B: Writings associated with the research
B1: Ledger, Adam J. (2017) 'Action, Participation, Feeling: Where's My Igloo Gone?', Climate Cultures. https://climatecultures.net/challenges-of-creative-engagement/action-participation-feeling-wheres-igloo-gone/
B2: Ledger, Adam J. (2020) 'Gulp!: Water choices, stories and theatre', Climate Cultures. https://climatecultures.net/challenges-of-creative-engagement/gulp-water/
B3: Ledger, Adam J. (2018) 'Where's My Igloo Gone?: "Trainings" for/in participatory performance for family audiences', Theatre, Dance and Performance Training, 9(2): 282–6. https://doi.org/10.1080/19443927.2018.1475161
Outputs - D: Selected documentation (integral and external) (more available on request)
D1: Films of complete performances of Where's My Igloo Gone? and Gulp!
D2: Trailers of Where's My Igloo Gone? and Gulp!
D3: Selected photos/video of rehearsal and working scripts
D4: Publicity material (with venues and tour dates) and audience response; The Bone Ensemble's marketing and evaluation reports